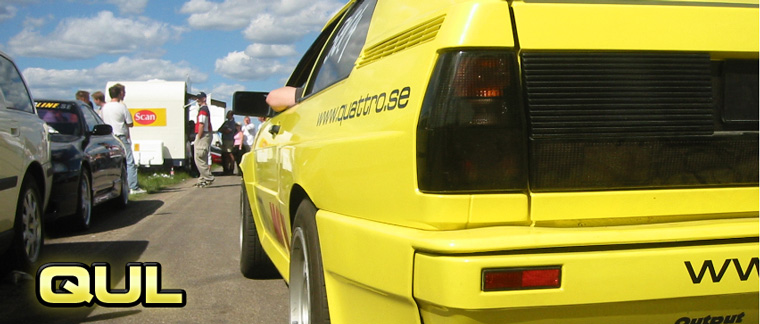 Detailed Specification
Car | Audi Quattro '86
Body/Exterior | Easteryellow • Edgy and brutal coupé
Interior | Något lättad • GUSS-bur
Boost gauge: Electric 60mm Apexi with adjustable alarm amd memory.
Exhaust temp gauge: Electric 60mm Apexi with adjustable alarm och memory • Transducer mounted in the hotside turbine.
Oil pressure gauge: Electric VDO 52mm 0-5bar.
Oil temp gauge: Electric Omori 52mm EH-115-BZ, with adjustable alarm.
Fuel pressure gauge: Electric VDO 52mm 0-10bar, sensor mounted on the fuelrail.
Water temp gauge: Electric Omori 52mm EH-112-BZ, with adjustable alarm.
Tacho: Omori 80mm ETS-410-BZ with shiftlight.
Speedo: Electric VDO 80mm 0-300km/h • Using stock inductive sensor.
Engine | 5-cylinder with drysump
Block: Modified cast iron block (3B / ABY / ADU / AAN etc)
Fuel pump: 2 Bosch 044 connected parallel to produce a high flow • 2 VDO feeder pumps for catchtank • Fuel pressure at idle is about 3.5bar/p>
Cylinder head: Audi S1 with PAS pump connected to one of the camshafts.
Turbo: Garret GT35/40BB.
Injectors: Bosch dual injectors per cylinder, individually controlled.
Inlet: Audi S1.
Blow-off: HKS 40mm • Mounted on flange • To free air with a K&N filter
Oil pan gasket: Custom
Engine management: Motronic MP 1.2 Trans Am • Sensors for RPM, boost and water temp • The program we are running at the moment is from Portugal rally 1986 - San Remo.
Exhaust system: 4" downpipe • 3" rest of the way with 1 muffler at the back with 2 3" exhausts • Big risk of flames • Everything built in stainless steel • Wastegate-exhasuts could be let out under the car instead of into the system.
Tank: ATL 30 litre fuelcell • Matter catchtank from Audi Sport • feedback goes through catchtank • Fuel hosing from Aeroquip and Goodridge with AN8-fittings.
Oil tank: Carbon fibre.
Oil catch tank: Own design, custom made in stainless steel.
Intercooler: Front mounted 0.5m high, 0.6m wide and approx. 80mm thick.
Oil cooler: Custom made Setrab cooler approx 0.7m wide, 0.1m high and 50mm thick • AN16-fittings in each end.
Piston cooling: Fat fuel mixture and oil cooled pistons - squirts from under with modified stock nozzles.
Transmission | Modified RS2, including a removed middle differential (spool).
Chassis | Audi A2 struts.
Brakes | Audi A2 4-pots • 302x28mm skivor (pads 97.8x66x17mm).
Wheels | BBS Splits • Yokohama 038R 225x45x16.
Performance | Best time so far 11.43/197kph with Maxi-Ice winter tires...
Stereo | dont *think* so!
Misc | Isn't the spec above enough? Well! The thing is, we're two owners on the car!