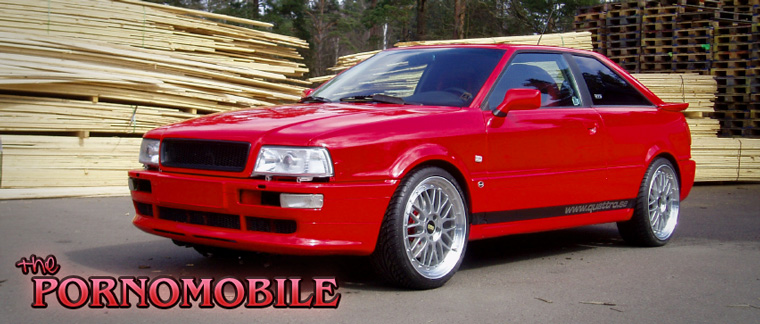 Detailed Specification
Car | Audi S2 Coupé '91
Body/Exterior | 2-door coupé • Porno red, new paintjob 2001 • Modified front spoiler with aluminium mesh • RS2-grille • Newer taillights • Ellipsoid headlights.
Interior | Porno red front and rear seats • Porno red inlays in the doors • Floormats with porno red edge • Omori EGT and Boost meters.
Engine | 3B/ABY, Inline 5-cylinder 20v turbo.
Bottom end: Completely rebuilt • Bearings, gaskets, belts etc. replaced • ABY block re-bored to 82.5mm • Verdi rods • JE pistons • Raceware main and head studs • Fidanza aluminium flywheel • Maple Racing Components red anodized aluminium pulley • 034 polyurethane snub mount • Home-made stiffer engine mounts.
Breathing: Head ported and rebuilt by GTM • Agressive cams • Furans Inlet manifold • RS Tuning stainless exhaust manifold • Garrett GT35/40BB turbo • QTD/Pace Products intercooler • HKS Racing bypass valve • Rebuilt and ported wastegate.
Fuel/Oil/Cooling: Bosch 044 pre-pump • Surge tank • Aeromotive A1000 fuel pump • Aeromotive fuel filter • Aeromotive linear fuel pressure regulator • Russel red anodized aluminium fuel lines • Flex-a-lite fuel cooler • 034 fuelrail • Accel 756cc low impedance injectors • Setrab 19-row oil cooler • AN fittings and hoses almost everywhere • Runs on Motul 300v and Motul Inugel.
Electronics/Ignition: Haltech E11v2 EMS • AEM C2DI CDI Ignition box • MSD CPC coils • MSD Super Conductor ignition wires • MSD Pro Race plug boots.
Transmission | Sachs Race Engineering reinforced pressure plate • Sachs Race Engineering stiff 4-padded sinter disc • 01E gearbox from S4 BiTurbo (DSY) • Home-made stiffer tranny mounts.
Chassis | Quattro! • Proflex/superflex polyurethane wishbone bushes • Uniball top mounts from Furans • H&R adjustable coilovers • Everything else rebuilt with new ball-joints and bushes, sand-blasted and powder coated.
Brakes | Steel braided brake lines all around • GT3 calipers and dba 321mm 2-piece discs in the front.
Wheels | Dunlop SP Sport 9000 235/35-19 on BBS LeMans LM154 8.5x19".
Perfomance | 0-100 on a coffebreak • 0-402m takes a lunch. •0hp at the moment
Stereo | Pioneer DEX-P99 • Amega Q-comp 6"+4"+titan dome • R/F Punch HX2 12" in a seald enclosure • R/F Punch G400a4+G500a2 amplifiers • R/F 1-farad capacitor.
Misc | PORNOGRAPHIC! (but rather irry...) • HUGE thanks to everyone who has helped me with the car!