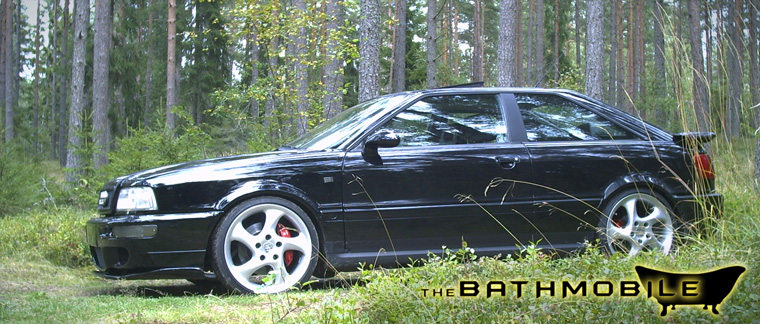 Brief Description
Against better knowing I bought the car back in May 2000. Shortly after that the RS2-insanity begun. I bought RS2ish brakes (Porsche 944 Turbo S with Audi A8 discs). And after that it just went on and on and on. The goal was set to build the RS2 Coupé that Audi forgot. That is pretty much still the goal but with a touch of NEO and some performance parts from the current line of Audis. So there are parts that has to be manufactured that will cost me huge sacks of money so I don't really know how realistic the goal is. But aim really really high and you might get pretty far as they say. =) My biggest problem is that I'm really really picky. And that kinda holds me back since I know from the beginning that I won't really be satisfied with the result, like for instance with a paint job.
What has to be done now is to complete the rear RS2-bumper fabrication, manufacture the plastic between the rear lights (not just plastic fiber or carbon fiber...), a total respray and general touch up.
The name "the Bathmobile" has it's origin in all the water leaks I have had over the years. The Bathmobile has taken in water in every possible, and impossible, place so my "friends" ;) started to call it "the bathtub" which I tweaked to "the Bathmobile.
Money spent on the Bathmobile, updated 18th of July 2011
I have saved every receipt for spareparts and expenses. So I have a pretty good knowledge of how much the Bathmobile have costed me so far. So why not share that with you guys?
SEK
EUR
GBP
USD
Including car
403 532.-
43 662.-
38 093.-
61 216.-
Excluding car
255 732.-
27 670.-
24 141.-
38 795.-
Read the full specification >
Detailed Specification
Car | Audi S2 Coupé '94
Body/Exterior | 2-door sport coupé with sunroof (electric) • RS2 grill • RS2 front bumper with cup-spoiler and Porsche 993 air intakes with foglights • RS2 rear mirrors • RS2 trim under the front lights • Red USA-taillights • ABT C5 Rear hatch • One of a kind custom S2-emblem
Interior | RS2 recaro seats • RS2 three spoke steering wheel • RS2 speedometer housing • RS2 auxilery meters • RS2 interior lightning
Engine | ABY, 2.2l 20v turbo • RS2 turbo • RS2 intake manifold • RS2 exhaust manifold • RS2 intercooler • RS2-crossmember • RS2 injectors • RS2 300kPa map-sensor • ECU rebuilt to RS2 spec • RS2 chip (350hk) • RS2 water pump • RS2 cam belt • RS2 MAF • 7A exhaust cam • Slightly massaged cylinder head • Bosch 044-fuel pump • RTM Airbox with K&N filter • Ferrita built exhaust system. 3,5" downpipe to one race catalysator and 3" pipes from the cat to two 4" exhaust pipes.
Transmission | RS2 gearbox • Shortshift

Chassis | RS2 front anti roll bar • Whiteline adjustable rear anti roll bar • Yellow race prepped Koni shockabsorbers with H&R springs • Powerflex polyreuthan bushes in all wishbones
Brakes | Porche 944 Turbo S calipers at the front with the Audi A8's rotors • Original S2 calipers and discs at the rear • Blue pagid brake pads • Stainless steel brake hoses
Wheels | RH Alurad AH Turbo 19x8.5" (Porsche Turbo-replica) with Dunlop SP Sport Maxx 225/35ZR19.
Performance | Who cares...? I'm only in it for the RS2 parts! =)
Stereo | Audi original. Who needs a stereo when you have a 20v 5cyl turbo engine?
Misc | Awaits bigger brakes and maybe a respray.