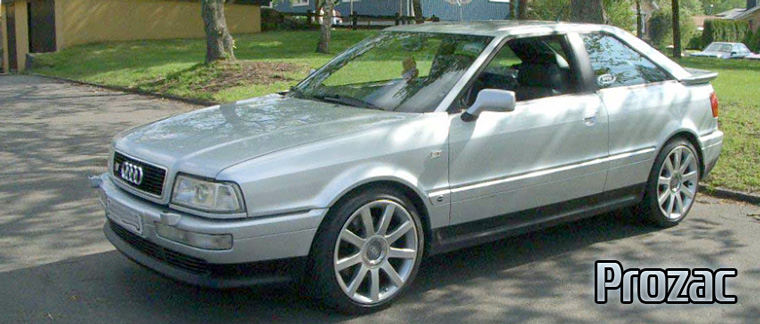 Detailed Specification
Car | Audi S2 Coupé '96
Body/Exterior | 2-door coupé • Silvermetalic (LY7M) • Treser taillights.
Interior | Recaro seats (RS2 type) • 3-spoke airbag steering wheel • Black leather • Wood trims in doors and dashboard • MTM 320km/h speedo.
Engine | ABY, 2.2l 20v turbo.
Transmission | 6-speed, wide 1st gear • Sachs stiff 4-puck sinter with reinforced pressure plate.
Chassis | Powerflex wishbone bushes • KW variant 2 coilovers.
Brakes | In front porsche 996 calipers with porsche original pads, 314mm A8 discs and steel braided brake lines • Rear stock brakes with EBC kevlar pads and steel braided brake lines.
Wheels | 18x8.5" RS4 rims with 225/40-18" Falken FK451 tires.
Performance | 0-100km/h under 6 sec, 80-120km/h on 3rd gear 3.3 sec. 230hp/380Nm.
Stereo | Becker Mexico Pro CD 4627 • DLS Ultimate UP36 front speakers • DLS A3-Big Three amplifier • Peerless XLS-sub.
Misc | Getting tired of the f**ker!