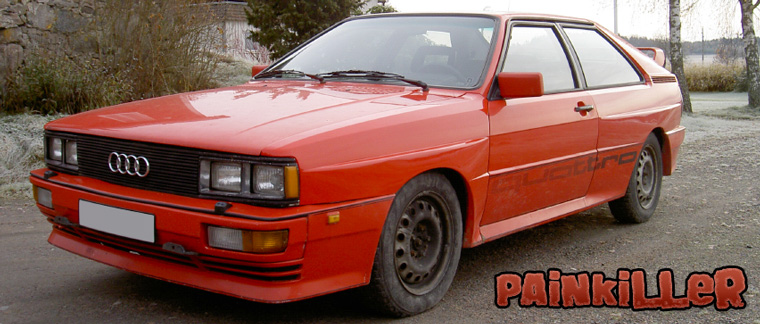 Detailed Specification
Car | Audi Quattro '82
Body/Exterior | Stock with rust included, Mazroth.
Interior | The good looking, black one with green/red inlays. Good condition, but the floormat is worn.
Engine | WR from '83. First one probably died a few yrars ago.
Chassis | Stock 1982 with bad shocks and moldy bushes.
Brakes | Stock rusted together, may pass the state inspection...
Wheels | Stock alloys with 205/60-15.
Performance | Not much to talk about. It moves, it has five cylinders and it has a turbo. 200hp, but many of them are probably on the run.
Stereo | It once had one of those. Anyway it's a shipload of wires in the car. Two alarms that are disconnected. Turbo and some karaoke from the driver.
Misc | Well, what do you say. It's an URQUATTRO!